Strengths-based leadership: it matters not what you have but what you do with it!
There are plenty of different theories of effective leadership. There is the 'great man' theory (forgive the label…it speaks volumes, most of them offensive) that great leaders are born and not made (and that great leaders are exclusively men…thankfully, this theory is no longer in favour).
Then there are trait theories – these propose that there are certain qualities that leaders must have if they are to be effective….but trait theories don't focus on context. Wouldn't that affect leadership effectiveness?
There are many leadership theories. Most of them (although not all) have a dash of truth about them.
Step up contingency and situational theories. They focus on context as an important determinant of success. And what of transformational leadership theories? The leader focuses on higher purpose and help people do their very best work by fulfilling their individual potential.
So how can the strengths approach add value here?
Well, our research suggests that successful leaders have very different personalities and qualities in order to achieve results. It seems that leaders are not well-rounded people. Nor do they possess the same qualities and competencies. Despite organisational life being dominated by competency-based approaches for the last couple of decades. The aim is definitely to create roundedness and not spikiness.
Not so long ago, Strengthscope commissioned a study by an independent psychometrics expert to examine findings from our StrengthscopeLeader™ data. This included exploring whether leaders possess similar or different strengths.
A sample of 866 UK and international leaders from different sectors and leadership levels was included in the study. And what we found was interesting. Very interesting…
Effective leaders do have different strengths
We define strengths as underlying qualities that energise us. These are what we are really good at or have the potential to become really good at.
Strengthscope® (the only strengths assessment to have achieved the globally recognised standard of registered test status with the British Psychological Society) measures 24 work-related strengths across four key areas – Emotional, Relational, Execution and Thinking. Our findings show that there is no one definitive set of strengths or one 'best way' they use to achieve their results. Leaders have different strengths that they apply to find their own pathways to success.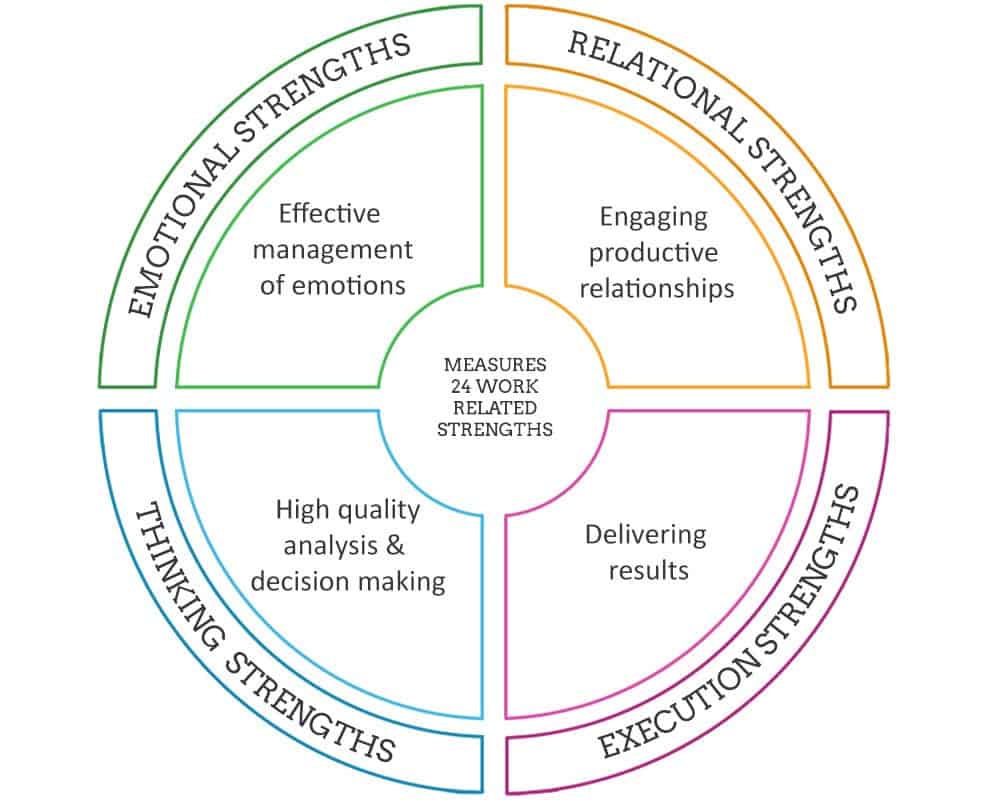 The most commonly reported strengths for the highest performing (measured in terms of 1-10 ratings of effectiveness by peers, direct reports and seniors) group were as follows:
Leading: Taking responsibility for influencing and motivating others to contribute to the goals and success of the team and organisation
Collaboration: Working cooperatively with others to overcome conflict and build towards a common goal
Decisiveness: Making quick, confident, and clear decisions, even when faced with limited information
But…and it's a big but. Differences between the frequencies of these strengths in the top performing group versus the overall sample were too small to be of any statistical significance.
And what that means in plain English. That highly effective leaders tend to use a range of strengths to meet their goals.
Effective leaders use their strengths more effectively, whatever those strengths may be
Our research found that higher performing leaders use their strengths more effectively than lower performers. This was judged by the people they work most closely with. They don't try to be something they are not by trying to be equally effective across too many strength areas.
Some leadership drainers are more common than others
The most common 'drainers' (i.e. those areas that sucked away energy from our leadership sample and which may point towards weaker areas performance-wise) for leaders in our sample were:
Detail orientation: Paying attention to detail in order to produce high quality output, no matter what the pressures
Emotional control: Awareness of your emotional 'triggers' and how to control these to ensure you remain calm and productive
Relationship building: Taking steps to build networks of contacts and act as a 'hub' between people you know
Around 30% of the sample reported Detail orientation as a drainer and this is even more common among high performers. Our experience suggests that leaders are often not energised by detail and checking the quality of work.
Of course, leaders cannot ignore this risk to performance if it's possible that it might cause them to derail.
So there are (at least) two options here:
To ensure you have people in your team who are detail oriented to ensure this aspect of the work isn't neglected.
Consciously develop detail-orientation skills to limit major risks to your success.
High performing leaders are more effective across all four of StrengthscopeLeader™ leadership habits
As well as using their strengths effectively, the highest performing leaders learn to effectively apply four leadership habits – Sharing Vision, Sparking Engagement, Skilfully Executing, and Sustaining Progress.



They learn to formulate and communicate a compelling vision, engage their people with that vision through effective communication, ensure effective implementation of the business plan and build a culture of success and sustainable progress. These leadership habits can be learned by any leader. It includes on-the job experience, coaching and co-worker feedback, support and training programmes.
Higher performers in the sample were rated significantly higher across all four leadership habit areas
Our research found that the most effective leaders were those who were able to:
Sparking Engagement. Promote an open and respectful work environment where people can freely express their views and ideas
Sharing Vision. Ensure a strong customer/service-based strategy that builds trust and loyalty
Sustaining Progress. Encourage people to be open to change and develop their capabilities to meet future requirements
The most important area involves the leader respecting people and giving them the space and freedom to voice their ideas and perspectives. In our experience, many leaders find this challenging. Either because they're too one-directional in their communication and don't actively listen and/or because the organisation's culture and top leadership style doesn't encourage inclusivity and open, honest discussion.
Many leaders still find it challenging to deal with poor performers
The lowest rated leadership habit across the entire sample was:
Skillfully Executing. Takes decisive action to deal with performance shortfalls and unproductive behaviour
The fact that this item was the lowest rated suggests that leaders still struggle to deal with underperformance in an appropriate and timely way. More effort is required here from leaders and from organisations to provide the right support for managers to learn these skills.
Creating a highly motivating culture is a strong predictor of leadership effectiveness
The ability to create a positive and highly motivating work environment was the most important predictor of overall leadership effectiveness (as rated by their co-workers in the research).
The second most important predictor was reliable delivery of planned business results. This finding suggests that in order to achieve strong results, leaders should ensure they invest time and energy in creating an engaging and positive work culture. It's where people feel motivated and supported to use their strengths and do their best work.
In conclusion – strengths-based leadership is real and it has real-world consequences
Our research provides several indicators as to how leaders and organisations can become more effective:
Know your strengths and use them well
Get real and be creative in managing your risk areas
Behaviour matters – work to develop positive leadership habits to be a high performer
Learn how to deal decisively with poor performance
Focus on creating a positive, open, trusting culture
Follow the tips above and you'll be well on your way to becoming a leader that others will choose to be led by.