A strengths story by Ben Oliver, Community Customer Success Manager at Strengthscope. 
Ben's top strengths: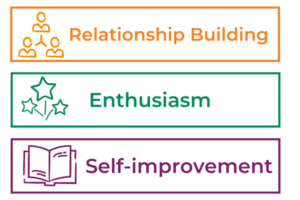 "I was asked to share a story of how my strengths have played out in my career so far. My honest thoughts were "Aren't I too early on in my journey for people to be interested in that?".  
Funny enough, this has been a theme throughout the early years of my career. I spent the first few years post-grad, liaising with coaches, consultants, entrepreneurs, and directors. This often caused a subtle doubt in the back of my mind and a mild sense of imposter syndrome. 
As an academic, I become accustomed to getting praise for my achievements, by using accolades as a reason to feel valued in my chosen field. Then I stepped out into the "big bad world of work" and entered the rat race of graduates competing for success. I was lumped into the melting pot of early-career talent which was a challenging and humbling experience. 
So rather than focus on a specific event where I have used my strengths to achieve something at work, I decided to share a personal challenge of mine.  
Back in my first tenure with Strengthscope, I remember saying to my manager at the time, "how on earth can I sound credible to consultants that have been doing it for years?" 
I assumed this was a logical concern for someone in an internship position. But I came to recognise that these were my energy drainers showing up (self-confidence, resilience, and courage). I was leaning so heavily on the Emotional cluster of my strengths. Everything was new, ambiguous, and uncertain. These energy drainers brought fatigue, stress, and worry with them; this dominated how I was feeling at work.  
Whilst I achieved great things and carved out a new role that I have now been hired back into, these feelings were still present when the internship came to an end. However, it was the feedback that came my way after leaving the company that changed how I viewed myself altogether. 
I had left Strengthscope to continue my studies, but what I took with me was my relationships. I would often hear from previous clients who expressed their appreciation for my contribution. Former colleagues would invite me back to company events, simply because of the strength in connections I'd made during my time there.  
It is this ability to form relationships and connect with people that resonate with my Enthusiasm strength, which helped me realise that this is my source of credibility.  
Strengths are what others appreciate about you. They are how people describe you even when you've left the business. They are who you are as a person regardless of the career stage you're at.   
As a naive graduate, I entered the workplace assuming it was my knowledge that would define my success. Based on my experience, it has been developing an awareness of strengths that put me in the best stead. This has helped me find a career that's tailored to my interests. A career that allows me to fulfil positions where my credibility comes from within. Comes from my strengths. 
Trust in the process. Knowledge and experience come with time. Strengths on the other hand will be with you from day one!"